After extensive renovations Castle Dracula's reputation for having an authentic and spooky experience for all its guests!
Bram Stoker's CASTLE DRACULA – one of Dublin's Most Exciting and Fun Attraction. Castle Dracula celebrates Irish Writer Bram Stoker & his Masterpiece DRACULA!
Guests travel back in time with Characters from Dracula coming alive to explore the Origins of Dracula an it's Mysterious Irish Writer Bram Stoker, who was born beside Castle Dracula.
Visitors journey through the Castle Tunnels, over Bridges to Lucy's Courtyard, up to Dracula's Layer and down to the Castle Theatre for a Show, while visiting the Bram Stoker Hall of Fame, where Bram's incredible Life is laid out through Letters, Pictures, Stories, Sketches, Posters and even a lock of Bram's Hair.
Please Note:
Strobe lighting is used in the Castle, Castle Dracula is not recommended for Pregnant women or those with heart conditions, please let the team know if you have any mobility problem, (Minimum Age 14yrs!) 
How to get there
Castle Dracula is very easy to get to. Located across the road from where Bram Stoker was born in Clontarf. The team at Castle Dracula meet the Audience in Westwood Fitness Club Reception at 18:45 every Saturday Night (Castle Dracula is behind Westwood)
Bus: The 130 Leaves from Abbey Street and stops outside Westwood Fitness Club
Train: Clontarf Dart Train Station is beside Westwood Fitness Club and is just one train stop from the City Centre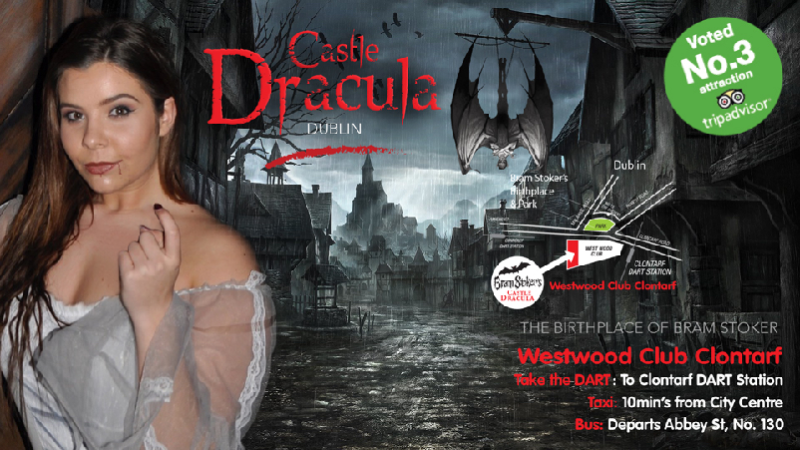 Those who dare to venture forth and learn about Dracula and the Irish writer Bram Stoker (who created him), will be treated to a heart thumping 2-hour tour that includes views of the castle courtyard and Dracula's lair.
The Church offer an exclusive partnership deal with Bram's Castle Dracula
Contact reservations for availability.